Here is the listing for Swap and Shop items that have been sent my way:
NOTICE: If you have sold an item(s) or you wish to sell items, please send me a note at ve6arg@shaw.ca
Some suggestions on selling on our site:
Make sure you clearly describe your item for sale or that you want
Indicate the price in Canadian $ please
Tell people how to get hold of you, either email or phone number
Indicate whether you will ship the item or for local pickup only
Include a picture if possible of your item for sale
————————————————-
---
Tom VE6ARG ve6arg@shaw.ca has the following for sale and must go asap:
Alpha Delta DXLB 160/80/40 Meter antenna for sale – $125.00:
Will ship in Canada only. Contact Tom VE6ARG – ve6arg@shaw.ca
Give me a call or text at 403 634 8801 or write to ve6arg@shaw.ca
—————————
Blair VE6AGH is also looking for the following:
Wanted: Marconi CP-24 or 34 or 44 Transceivers
Wanted: Wireless Set – 58
__________________________________
Received this note from Chris Laliberty, one of our basic students.
Hey Tom,
Chris Laliberty here, I would like to let the club know that if they need anything built out of Aluminum or steel I would be happy to oblige.
Club members and anyone with a callsign get 10% off labour.
Anything big or small!!! They can email me directly
Chris Laliberty
Arcacesweldingyql@tnbgr
---
Elwyn VE6AQR is selling an antenna. It is a brand new Cushcraft R9. This antenna has been assembled but has never been put up or used. Therefore it can be considered new. Elwyn has moved to another location that doesn't allow antennas and he wants to sell it to someone that will be able to use a classic HF vertical. The R9 is a great HF antenna that covers 80M to 6M and doesn't require ground radials to operate. Just put it on a pole in your yard away from trees and other conductive things like towers and masts. The 2″ pole you cement into the ground is commonly 7′ – 10′ high with the intention to keep people away from the short radials ends that hang a bit. Because of the winds in our area, it is recommended that guys be used to prevent the antenna from being damaged by the wind. The new Canadian price for this antenna is $990.00 but Elwyn is asking $750.00 for it. This is a deal so snap it up as soon as you can. The antenna is being stored at Tom VE6ARG's place so send him a note at VE6ARG@shaw.ca for where to pick it up.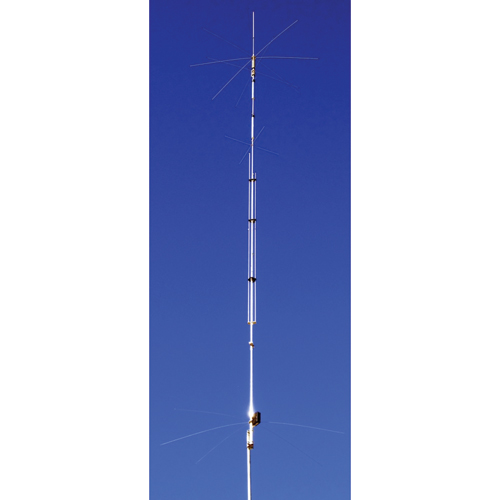 ————————————————-
Mel VE6CU dewintk@gmail.com is selling the following
I have a new (unused SCU-20 Cable) for the Yaesu Radios to Computer connection USB to a 10 pin mini Din Plug for your swap and shop $50
73
Mel VE6CU dewintk@gmail.com
———————————
RCA Victor Type AH 152-A base antenna. This is an omni directional antenna, likely with 3dB gain. (Have not been able to find any specs.) The is a heavy-duty commercial antenna in good condition. VSWR sweep was done with the follow results.
144MHz – 1.62:1
146MHz – 1.19:1
148MHz – 1.70:1
Antenna can be picked up in Lethbridge, no shipping available.
$50
Contact Barry Rushford VE6BGR at
403-795-1728
            VE6BGR@gmail.com
——————————
MFJ-945E compact mobile or fixed station tuner. Covers 1.8MHz to 30MHz with a maximum power rating of 300 watts. Cross needle meter with back light and Hi/Lo forward scale of 300/30 watts and reflected scale of 30/6 watts. Comes in original box with manual.
Unit is as new and has been used for only approx. 8 months. Unit is available in Lethbridge but will ship at purchaser's cost.
$190 firm
Contact Barry Rushford VE6BGR at
403-795-1728
            VE6BGR @gmail.com
——————————
Two large high power tuneable inductors, each with a geared drive assembly. Believe that these are RCA units with each measuring 30uH inductance. One unit has a brass coil and has had the rear porcelain plate repaired by gluing. The second unit has an alloy coil and is in very good condition. Both units require some coil mechanical adjustment and main shaft adjustment. Both measure 12"L X 6"H x 6" W. These are hard to find items and would make an excellent high power manual tuner.
$250 for the pair
Units are available in Lethbridge but will ship at purchaser's cost.
Contact Barry Rushford VE6BGR at
403-795-1728
            VE6BGR@gmail.com
——————————